Anyone who has been on safari knows that the sundowner is not only a time honored tradition of bush life, but also an incredibly lovely way to end your day. After a wonderful day exploring the wilderness, you find a beautiful spot to silence the rumbling engine and let the golden light and gentle susurrations of the bush wash over you. It may be too hard to bring home a baby elephant, but you can certainly bring home the tradition of watching the sunset while sipping on a delicious cocktail.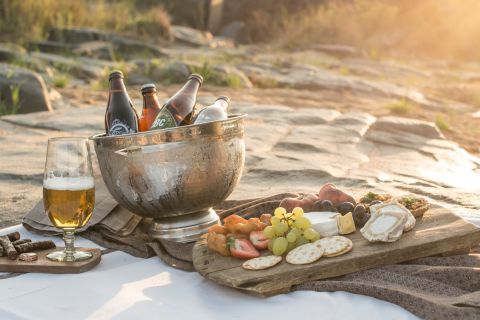 For your first stateside sundowner, try this delightful recipe for a blueberry gin royale, courtesy of Singita Sasakwa Lodge. Sip, relax, and reminisce about life on safari:
Ingredients: (makes 4 cocktails)
1 cup blueberries + extra for garnish
1 cup water
1 cup sugar
1 bottle sparkling wine
½ cup gin
4 long sprigs of thyme
1 cup of ice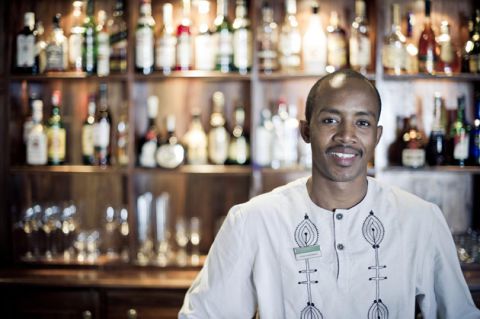 Crafting the cocktail:
Bring blueberries, water, and sugar to boil in a small saucepan. Reduce heat and let simmer for ~10 minutes or until the berries are soft and the simple syrup is a lovely, bright pink color.
Remove pan from the heat, strain out the blueberries, and allow syrup to cool.
Combine ice and gin in cocktail shaker and vigorously shake until gin is cold.
Divide the gin between four champagne flutes and add 1 tablespoon of blueberry syrup to each glass. Top off each one with sparkling wine, taking care to pour down the side of the glass.
Garnish with fresh blueberries and a sprig of thyme
Serve immediately while daydreaming about these stunning views from Singita Sasakwa in Tanzania.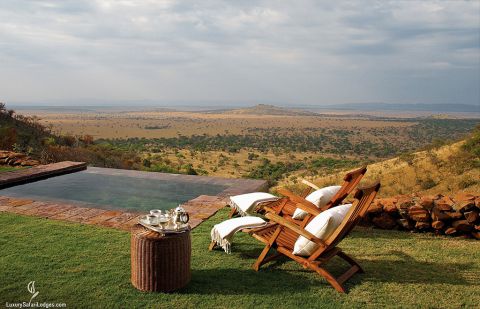 Recipe & photos courtesy of Singita Sasakwa Lodge