Helicopters over the Okavango Delta
By Brian Huggins
As part of my recent trip to Botswana, I was very lucky to take a scenic flight with Helicopter Horizons over the Jao Reserve in the Okavango Delta. I've been to this reserve several times, and every time I get the best feeling from the area. I've come to expect a great time there, but as is true with nature, there are always new surprises for you no matter how many times you've seen a place. This helicopter excursion gave me a fresh perspective and appreciation for this spectacular ecosystem.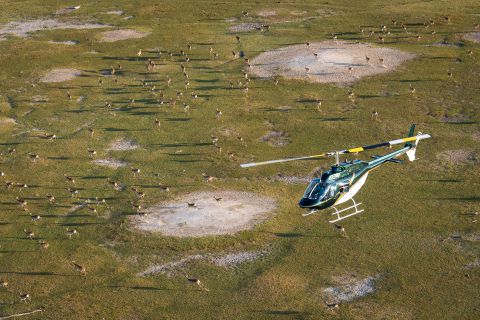 Taking off from the Jao airstrip, we flew over the delta in a Bell jet Ranger helicopter. Cruising very low over the delta, the pilot was able to remove the doors, giving us unobstructed views of the wildlife below. Beneath us monster crocs sunned themselves on the channel banks, a herd of buffalo spread out like spilled ink, and bull elephants strode along, still regal as ever from our lofty position. For thirty exhilarating minutes we zoomed across the delta, taking in a land as old as time from this thrillingly modern perspective. Truly amazing!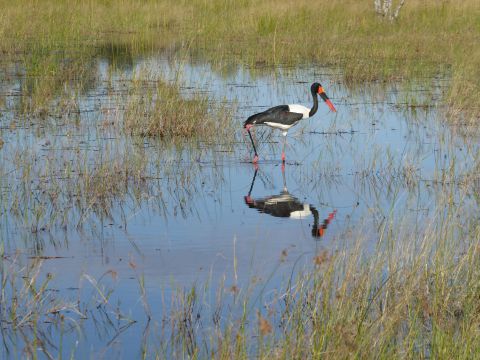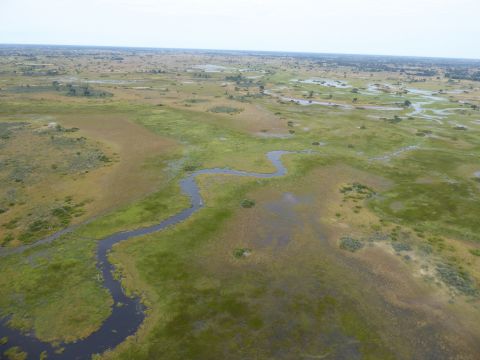 I cannot recommend this type of excursion enough. These scenic flights can be incorporated into any safari and will absolutely add to the experience. Another fun option is to have a helicopter transfer flight from camp to camp instead of a light aircraft. The costs involved are relative to the normal light aircraft transfer flight so there are no huge extra costs involved by adding it in.
My final tip: I'm no great photographer, but bring your cameras – the photo-ops are fantastic!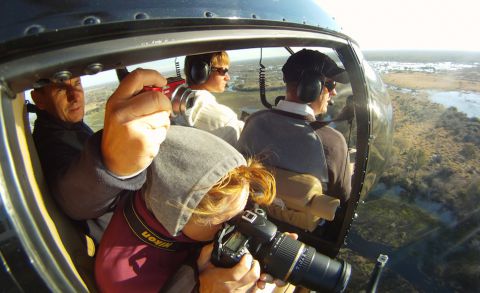 All photos of helicopters from Helicopter Horizons