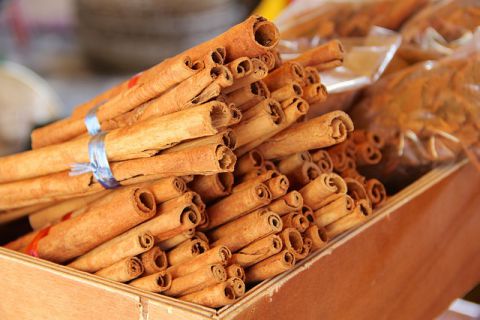 Moroccan Cornes du Gazelle
One of my favorite parts of traveling in Morocco is the food. What a wonderful way to experience the culture of a place, the life of the people one tasty meal after the next.
Moroccan meals can start with luscious lentil soups. Hot bread. A myriad of salads where each vegetable is seasoned and treated differently. Next comes the tagines; meats cooked in the over drowned in rich sauces and flavor combinations – chicken with preserved lemons and green olives and lamb with prunes were two favorites. Piles of fluffy couscous.  Pigeon Pie. Desert. Pride and gracious hospitality meant that it was common to be physically uncomfortable by the end of every meal. We were just too full.
But over a famous cup of sweetened peppermint tea came the cookies. We were forced to overcome our discomfort and indulge further.
Pastries are filled with dates, poppy seeds, almonds, butter and powdered sugar. Each shapes according to tradition and melting in your mouth. I found myself thinking about the Hornes Du Gazelle long after our trip was over and had to take things into my own hands.
A thin pastry rolled around a gorgeous filling made of ground almonds, powdered sugar and a hint of orange blossom water shaped to emulate the horns of a gazelle. The baked pastry is crispy beneath a dusting of powdered sugar, the filling floral, rich and sweet all at the same time.
I found several utube videos in French demonstrating the technique. After a few tries, I perfected the technique and added them to the list of annual Christmas cookies and they were a hit. If you remember these from your travels to Morocco, you should also try them at home or maybe it is time to visit this dynamic land of many flavors and colors for a real bite.
Cornes du Gazelle
INGREDIENTS FOR THE FILLING:
·         2 ½ cups (10 ounces) blanched almonds
·         ¾ cup confectioners' sugar
·         2 tablespoons orange blossom water
·         2 tablespoons clarified butter, melted
·         1 egg white
·         ½ teaspoon ground cinnamon
·         1 teaspoon finely grated orange zest
FOR THE PASTRY:
·         2 cups all-purpose flour
·         3 tablespoons clarified butter, melted
·         1 egg yolk
·         2 teaspoons orange blossom water
·         Pinch of salt
FOR THE COATING:
·          Butter for greasing baking sheets
·         ¼ cup orange blossom water
·         1 ½ cups confectioners' sugar, sifted, more for dusting
PREPARATION
1.   For the filling: In a food processor, pulse together almonds and confectioners' sugar until powdery. Add remaining filling ingredients and continue to pulse until mixture forms a stiff paste. Mold paste into a ball, wrap well and refrigerate for at least 1 hour (and up to two days).
2.   For the pastry: Using an electric mixer, mix flour, melted butter, egg yolk, orange blossom water and 2 tablespoons cold water until combined. With mixer running, add 2 to 4 tablespoons more water, as needed, until dough just comes together. Continue to beat until dough becomes smooth and elastic, about 2 minutes. Cover bowl with a damp towel or plastic wrap and leave at room temperature for at least 15 minutes and up to 2 hours.
3.   When ready to bake, preheat oven to 325 degrees. Grease 2 baking sheets.
4.   Divide dough in half and cover one half with damp cloth. Transfer other half to a lightly floured surface and roll it to 1/8-inch thick. Cut dough into 3-inch rounds with a cookie cutter.
5.   Using your hands, roll two teaspoons of filling into a ball and place in center of round. Repeat, filling all dough circles. Using a pastry brush, lightly brush border of each with water. Fold bottom of dough over filling, forming a half-circle, and press edges to seal. With tip of a sharp knife, make three small diagonal slits on top of each pastry. Bend pastries into a crescent shape and transfer them to baking sheets, about 1 1/2 inches apart. Roll out remaining dough, and repeat. Transfer pastries to oven and bake until pale golden, 20 to 25 minutes. Let cool for a few minutes.
6.   Dust pastries with additional confectioners' sugar, and serve.