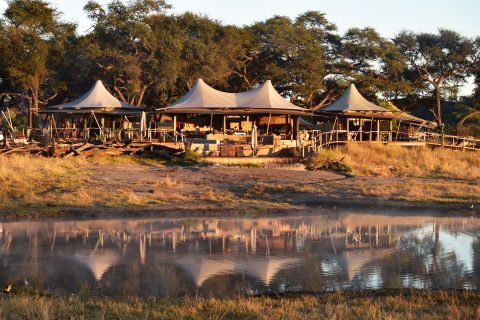 On a recent trip to Hwange National Park, Teresa and I were lucky enough to check out the new Somalisa Camp and all I can say is WOW. Every detail from the welcome on arrival to the thoughtfully and beautifully appointed tents was perfect. The camp was totally rebuilt recently and the new design is absolutely stunning. Think Out of Africa meets wanderlust chic with a Zimbabwean heart and soul. A palette of burnt sepia, soft cream, and burgundy creates a warm ambiance that is rounded out with polished copper accents. Soft folds of fabric create canopied ceilings and a stylish mix of colonial artifacts and handcrafted African art adorn the shelves and walls. The rooms fan out around a grove of ancient acacia trees, each one offering total privacy and panoramic views of the beautiful Hwange landscape.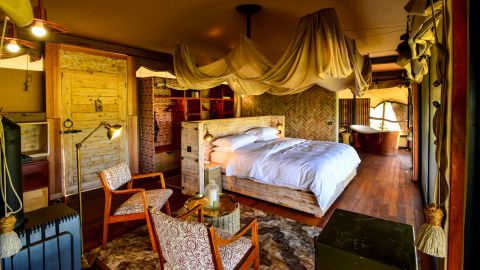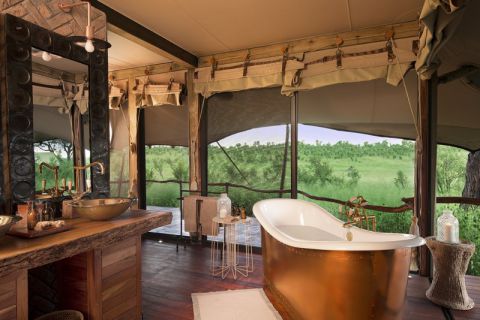 As soon as you step foot onto the property you join the Somalisa family. The staff greets you with arms wide open, welcoming you to their home and insisting you treat it like your home as well. The management and service were on point throughout our entire stay. They were attentive and caring, attending to our every whim and always offering a handcrafted cocktail or delicious nibble while we relaxed in the lounge. 
We certainly aren't the only ones that adore Somalisa – the local elephants love it just as much! They wander through the camp feeding on ripe acacia fruits in May and June, and frequenting the water hole in front of the terraced lounge. When they rebuilt the camp, they created a second pool on a higher deck for people to use, keeping the lower pool exclusively for the thirsty elephants that had claimed it as their own. If you want to enjoy some fantastic elephant viewing right from the bar, you can't get much better than Somalisa.

Long before the first hint of blue appeared on the horizon, our guide came knocking at the door.
"Good morning! Hellooo, good morning!"
"Errmmmm. Good morning…"
Early doesn't even begin to cover mornings on safari, nor does chilly begin to cover Hwange nights. When you get that combination, not even the promise of a leopard could convince me to get out of bed. But somehow the wonderful staff at Somalisa have perfected the art of coaxing guests out of their warm beds. Each tent has been designed for luxurious coziness, with touches that have been carefully crafted for blissful comfort. Wood burning fireplaces and hot water bottles (affectionately called bush babies) keep you cozy all night, but my favorite surprise came during that early morning wake-up call. A carafe of steaming coffee, fresh cream, and pre-warmed mugs await you in a butler hatch cleverly built into the tent so that you don't even have open your door to the cold. Now if you're anything like me, you could get the best night of sleep ever and still want nothing more a giant cup of coffee first thing in the morning. Somalisa majorly delivers on this point.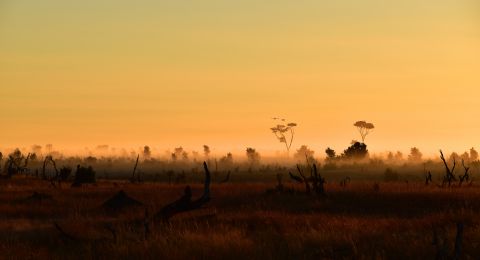 But the incredible Somalisa mornings don't end there. As I wandered down to the main area coffee in hand, I was greeted by the delicious scent of breakfast cooking over the campfire. The staff had already laid out an impressive spread – slow cooked oatmeal, fresh fruit, eggs and bacon cooked to order over the fire, even local honey. As we ate the mist slowly rolled into the valley, creating one of the most stunning sunrises I have ever seen. After being thoroughly sated with delicious eggs and a carafe or two of coffee, we took off on a game drive in search of Hwange's legendary wildlife. If you ask us, life at Somalisa Camp is pretty fabulous.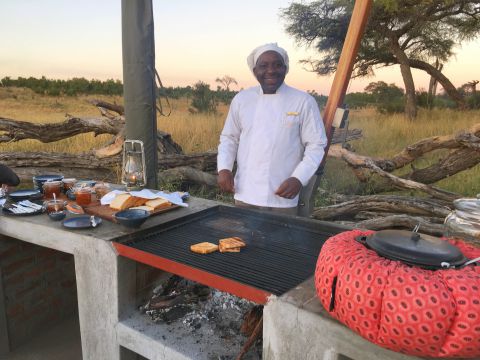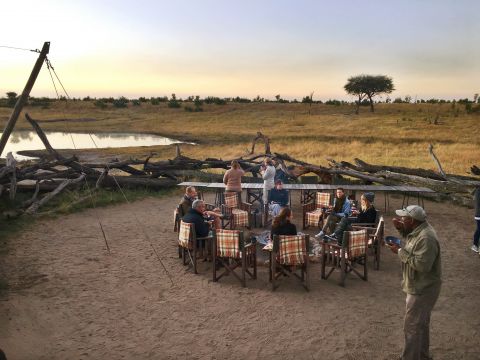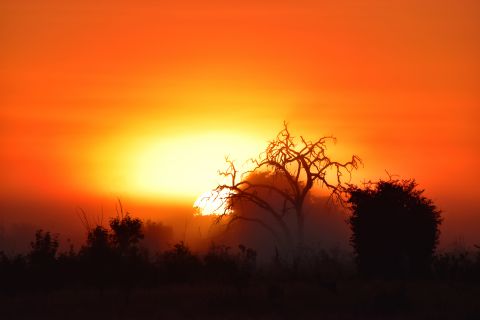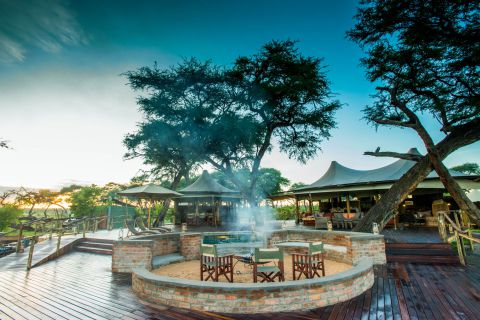 Start planning your own Zimbabwean adventure!
Photos from Somalisa Camp & Kelsea Lee