Expertise – We set the standard.
When you book with Mango Safaris you can feel confident that no other company offers you the same creativity, flexibility, regional insight and depth of knowledge about the African Continent. Mango Safaris has been planning safaris for over twenty years. Travel is not just our business - it is our passion and our life. We truly enjoy what we do, so we bring a fun and engaging energy to every client relationship. Our clients feel this energy and often describe it as 'infectious'.
Our team has spent years seeking out the best Africa has to offer, allowing us to cater to a wide breadth of travel styles. You can trust our recommendations – we have great taste from remote bush camps to chic city hotels. Extensive on-the-ground knowledge means that we have visited all the properties and lived all the experiences before we recommend them to you. Long-standing relationships with a network of safari operators and top notch guides mean we can offer insider access to unique experiences that go beyond the expected. 
The luxury of Africa lies in its wild heart. There you can wholly immerse into pristine wilderness, where the abundant wildlife roams free and the starry skies stretch to the horizons. You can indulge in the freedom of exploration in a world untouched by mankind. This means our focus is putting you in prime wildlife areas, with excellent guides on a flexible schedule to explore how and when you want to go. The lavish touches of stylish tented camps, great chefs and plunge pools are just the extras when it comes to African travel.
Our expertise allows us to craft beautifully authentic and perfectly tailored journeys. Whether you want to see elephant herds numbering in the thousands, marvel at ancient baobab trees, trek to the mountain gorillas, or climb to Uhuru Peak on Mt Kilimanjaro, we have got you covered. Our trips are designed to give a genuine sense of pure Africa – beautifully diverse and invigoratingly wild.
Logistics - Our trips feel good.
Mango Safaris offers an unparalleled understanding of how to smoothly operate a trip in Africa. An astonishing amount of details go into making your trip perfect. We select restaurants to suit your tastes, request rooms with the best views. We design our trips to perfectly blend comfort and adventure.  
How the pace and movement of an itinerary feels is crucial to the experience you will have as you live it. We think about airport transfer pick up times, overnights in capital cities, how and when splurges will have the most effect and what order an itinerary should go in when we start crafting suggestions for you. For instance, we like to keep the quality of game viewing, level of luxury and service improving throughout a trip. We aim to strike the perfect balance between free time and scheduled tours so you never feel under or over-planned.
We know the flight schedules of international and regional African airlines intimately and design our trips to maximize your time on safari or at the beach as opposed to airport hotels and terminals. Whenever possible, we avoid two night stays so you spend less time transferring and more time experiencing Africa.
Mostly importantly, we plan our trips with space to account for Africa being Africa. You never know when a hiccup might occur, whether it's a flat tire, a delayed flight or a band of wart hogs running through your camp. Our team will be there to smooth out any bumps that may occur so you won't even skip a beat.
We understand the value of time.
Mango Safaris is a full service travel company – we help you with comprehensive ground arrangements in 18 African countries, international and regional flights, and travel insurance. Our expertise takes the time and stress out of planning your trip. You won't have to worry about the details while traveling. With limited travel time, you want to ensure your time is spent enjoyably rather than searching for ATMs or trying to figure out which restaurant is good.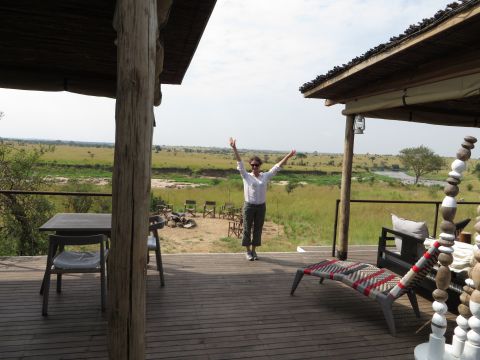 Planning the trip of a lifetime is challenging no matter what the destination is – but Africa poses its own set of particularly difficult challenges. It's hard to even know where to start looking – which region is best for you? Which parks and reserves have the best wildlife? Which camps offer the best service and location? How do you know which are sustainably and responsibly run? Nowadays a great website doesn't necessarily mean a great product. With hundreds of safari camps and lodges out there, it can be overwhelming. We have done the legwork and carefully sought out the best at every level of luxury in both well-known and emerging destinations. We take the guesswork out of planning your safari experience so you can sit back and immerse entirely into the experience.  
Reputation – Big name quality with a personal touch.
Over the years Mango Safaris has been recognized by numerous top travel companies for our excellence and expertise in African travel. In addition to features in Outside, Conde Nast, Centurion, Departures and Martha Stewart Weddings, we are proud to have been on Travel + Leisure's 'A-List for Top Travel Advisors' since 2014 and Conde Nast Top Specialists list since 2017.  Multiple times over the years we have been featured in National Geographic's 'Trips of a Lifetime' for journeys specializing in the primates of East Africa and the peculiar wildlife of Madagascar.  At the end of the day, nothing means more to us than the glowing testimonials we receive from our clients.
"We have traveled a lot internationally, both for work and for pleasure, so we know the difference between help that is casually offered and help that is meticulous. What Mango Safaris did for us on a trip to South Africa - everything they did for us - was meticulous. And equally important, everything they arranged was first class: our accommodations, our meals, our ground transportation, all of it was flawless. The people at Mango say they have lots of 'Africa experience', and it's obvious that they do." – Greg & Carol D.
We deeply value our relationship with our clients. When you travel with Mango Safaris, you join the Mango Family forever. We are honored that over 70% of our business comes from word of mouth referrals. Many in the Mango Family have caught the Africa bug like us, coming back time and again for another magical adventure.
As a United States based company, we are able to act as a secure and reliable connection between Africa and our clients. You can rest assured knowing your experience with Mango Safaris will be convenient, safe and dependable.
Responsible Tourism – Conservation & Giving Back
Mango Safaris prides itself on being a conservation based company. We only send clients to areas that are responsibly managing their land and wildlife populations. We seek out eco-friendly properties that were designed for minimal impact on the environment. It's not surprising that some of our favorite destinations are important conservation areas. The wildlife is plentiful and the safari experiences are more flexible since they are on private concessions. Most importantly, by traveling to these areas you are helping to patron their conservation efforts.
When you book with Mango Safaris, a portion of your trip cost is donated directly to supporting conservation projects that range from combating rhino and elephant poaching, to wildlife education in local communities. 
No regrets.
Africa is a destination that you may only travel to once in your life. By choosing to travel with Mango Safaris, you ensure that it will truly be 'the trip of a lifetime'. You'll come away with no regrets – only incredible memories of your time there. Africa is a truly magical place – it's a destination that satisfies your soul and awakens your sense of wonder. We are thrilled to invite you to experience this unforgettable way of travel, into the remote corners of the world in a completely original and authentic style.